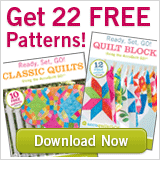 Click on above photo to sign up and receive your 22 FREE quilt patterns!!
Has any of my readers heard of AccuQuilt? I love this company! I have their GrandeMark.
The machine does the cutting for me. All I have to do is place my fabric on the die, place the plastic sheet over the die, and then roll the die through. It can cut anything a scissors can–faster and easier. Plus my fingers don't get tired!!! I make rag quilts and LOVE this machine for their rag dies!!!
They also have two other more portable machines: the baby Go! and the Go!